OMA ATV Racing Series Bryan Hulsey Wins Round 2 (11/05/2011)
OMA ATV Racing Series Bryan Hulsey Wins Round 2
OMA ATV Racing - Round 2 - Ft. Smith, AK - April 16, 2011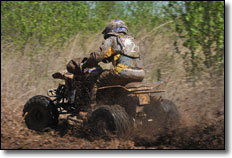 Team Epic Racing #2 Bryan Hulsey makes his way thew the mud on his Honda 450R ATV to take the win
Tuscumbia, AL (4/29/2011)
-April 16th brought the 2nd round of the OMA Nationals to Ft. Smith Arkansas and a brand new venue that has never had an ATV race held on the land. Rain and thunder storms the day before left some of the track including the starting line with some standing water that would later become sloppy fields. Most of the track would be just fine with a few nasty spots here and there.
As the Pro Quads got the green flag it was Missouri's Dustin Reeves that lead the rest of the field into the first corner followed closely by the number 2 quad of Duncan Racing/Maxima Oils/Quadtech rider Bryan Hulsey and Mike Taylor followed close behind in third with a freight train of riders in tow. 2010 OMA Nationals Champion John Pitts on his Blingstar/kalguard/Liquid Performance backed ride, suffered a rare bad start and was on a mission to make up time to catch the leaders.
As lap one drew to a close, Bryan Hulsey on his Dirtworks Motorsports/RK Chains ride, slid around Dustin Reeves to lead the scoring on lap one with Mike Taylor in third and John Pitts on the Dirtworks Motorsports/RK Chains bike fighting through the pack of pros to 4th with Bud Fredrich in fifth and Ryland Johnson in sixth followed by Spencer Dickerson in Seventh.
On the second lap Mike Taylor found a good line around the Moose Racing/Hiper wheels #2 of Hulsey and started to put in a good pace out front. As the track started to deteriate, the battle was on for the lead position. Several times over the next few laps the current lead four of Mike Taylor, Ryland Johnson, Bryan Hulsey and Spencer Dickerson would swap positions by taking different lines, fighting through a couple of bottlenecks and battling hard for the lead. Mike Taylor would lead the scoring of laps 2-6 with the other 3 being scored in different positions each time right on his heels. Moose Racing/Vee Rubber sponsored John Pitts was fighting his own gremlins as the water started to cause electrical issues that would slow his charge and make it difficult to keep a decent pace and would at times stall him out and force him have to play catch up.
At the end of lap six, Mike Taylor pitted for goggles and Ryland Johnson assumed the lead for the seventh lap followed by ARS-FX/Exit Shocks/Bosch Tools backed Bryan Hulsey. They rode tight together for a mile or so of that lap when Ryland snagged a wad of branches and got spun around which allowed the #2 of Hulsey to reclaim the lead. Before Johnson could untangle, Spencer Dickerson also slipped by and tried to cut down Hulsey's 45 second lead. With a clear track ahead of him, the EBC Brakes/K&N Filters/Precision Racing backed Hulsey started to put in some clean consistent laps to finish a solid 29 seconds ahead of the chasing Spencer Dickerson. "Every time I would pass into the lead, they would find a line back around me, so I decided to follow for a while and not push for the lead any more" said a relieved Vee Rubber Tires/ODI Grips sponsored Bryan Hulsey. "My equipment held up great throughout the race and I used the same pair of Smith Roll-Offs all day. Also I credit my Powermadd Gauntlets for keeping my hands clean and dry, so I didn't have to pit except for gas going out for the last lap and that was just in case. I played it safe today and it worked out in the end. I was glad to see the checkered flag because when it is muddy like this, anything could happen".
Spencer Dickerson checked in on the last lap just 29 seconds behind Hulsey for second place. "I pitted almost every lap for goggles." said the quiet and mellow Dickerson after the race. Ryland Johnson would recover from his incident with the branches and fill the final spot on the podium. He dedicated his podium finish to his late grandpa who has been an inspiration to him all his life.
Mike Taylor would find he early laps in the lead end with a respectable fourth place on the day. The spitting and sputtering, hard fighting Maier Plastic/Motion Pro sponsored John Pitts would end the day with a fifth place finish. "I didn't have a really good start, but I worked up to the leaders when my bike started to have electrical water issues which was making the bike not hardly run at times and even stall out completely" said a frustrated Pitts. "Sometimes I would have to kick it 10-15 times to get it to fire back up when it would die. I am just glad it is over and it made it to the finish and I am not dead last. I will get it all sorted out and be back to do it again in Tennessee"
Early first lap leader and $100 holeshot winner Dustin Reeves would suffer a rear shock failure and finish in 8th place for the day. "I felt I had a good pace going for the first couple of laps, then I just wanted finish the race when the shock started to give me problems. It was a great track and I am going to run the rest of the season, but first I have to fix some stuff for the next round" said Reeves
In the ATV A class action Duncan Racing sponsored Craig Fallis was the only A class rider to finish in the top ten with an impressive 6th overall. "I got the holeshot and then got a little nervous and let the guy in second go by because I didn't want to lead the first lap. Then I caught him again and got by and just pushed as hard as I could. I had a blast out here today and can wait for the next race" said an elated Fallis.
Everyone in attendance seemed to like the very first ATV event held at this location. Bill Gusse put on another great ATV race that even thought the riders may have been hard to identify, the spectators in attendance even seemed to enjoy. Also a special thanks to the Arkansas Harescrambles Championship Series for the help in securing this location, cutting trails and co-sanctioning with the OMA Nationals.
article and picture from :www.omanationals.com